Cronies Bar & Restaurant
Lunches & Dinners, Light Meals & Scottish Tapas, Malt Whiskies, Scottish Gins & Cocktails, Coffees & Ales, Warm & Welcoming, Local & Unique.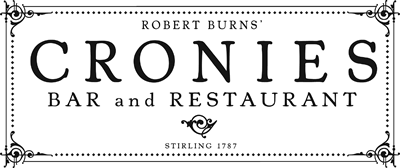 Visit Website  Sample MenuBook a Table
Cronies Bar
Cronies Bar is the characterful solution when you seek a cool, quiet pint, and the comfortable, wood-panelled setting is a favourite with touring guests and Stirlingshire locals alike.
Bar open daily for both residents and non residents.
Sink into the leather club armchairs and sofas, order up a dram or two of malt whisky and admire the memorabilia that takes you back to the Golden Lion's 18th century origins as a coaching inn.
Throughout the day you can enjoy snacks, fresh coffee, tea and pastries, from our full bar service. A tasty bar meal menu is offered all day 'til 10 pm and live entertainment is a regular attraction.
Sipping malt in a genuine 18th century inn makes Scotch taste even better! J.J. McCale – Texas
Cronies Restaurant
Cronies Restaurant complements the adjacent bar with an elegant layout, service that is attentive and friendly, and a memorably high standard of cuisine.
Succulent local beef, lamb and Scottish seafood are among the signature dishes on an imaginative menu, which caters for all special dietary requirements. A varied menu for children is always available, and the Golden Lion provides a professionally chosen menu of wines from Worlds Old and New.
"Please thank the staff of your restaurant, they were considerate in every way and made my family and I so welcome … it's lovely being back in Scotland."
Miss D Williams, Cardiff
for any bookings larger than 10 please contact stacey.morrison@thegoldenlionstirling.com